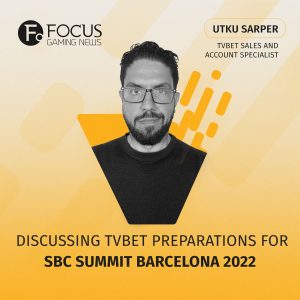 SBC Summit Barcelona 2022, which will be held between 20-22 September, will reunite global leaders in sports betting and iGaming assemble. Utku Sarper, sales and account specialist for TVBET, talked to Focus Gaming News about the team's expectations for the summit, the products they will be showcasing and their nominations for SBC Awards 2022.
How are you preparing for SBC Barcelona?
SBC Summit Barcelona will take place in a few days, and we are very excited to present our company at the summit! Our team will be at booth J9. At the exhibition, we will present new games that we have been working on recently. We will be happy to talk about the variability of interaction with our products, and about technical changes that have made the service even more efficient.
In general, we have many improvements in the product that our old friends and new potential partners will appreciate. So, we will be glad to see you in Barcelona!
What products are you most eager to showcase?
We will surely be showcasing new games that we have been working on recently, namely Mega 6 and Spin2Wheels, we will also be able to present and demonstrate features of our TOP performing games like KENO. We surely advise anyone to stop by our stand and discover our live solutions!
Which are the upcoming releases we can expect from TVBET?
By the end of this year and the beginning of 2023, we plan to release very interesting products in a variety of directions. But I can't tell you what exactly for a while.
However, we can say that we constantly work on optimizing our existing games and are proud to be actively working on our White Label offer. Together with partners, we build studios and create games for local markets. Stay tuned to hear our news!
The full interview read by the link.